Well, it happened! Like many people my air conditioner was not serviced prior to summer. Here it is June in Southeast Kansas and the temperature is in the 90's and my air conditioner is not performing and making the whole family uncomfortable and mad at me. In fact, the old air conditioner was freezing up which doesn't seem to make sense. There was actually ice on the tubes leading to the outside unit. How could this be at 95 degrees.
I finally had to call Lee's Cooling and Heating who is my new marketing client. It was embarrassing to have to call my new customer to ask for their help with my old system. I knew they would be real busy with other customers with more important issues. I made the call and they were out quickly to determine the cause of the freeze up of the system.
A fantastic young technician with a great smile arrived addressing me as Mr. Flood which impressed me. He didn't know me other than I was the new marketing guy. He came on in and asked me about the problem. Just a couple of questions and he was confident he could fix the problem quickly for me.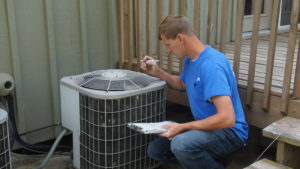 He went on out to the air conditioner outside and was back in to report to me in only about 15 minutes. He had already fixed the problem in this very short amount of time! As it turned out the system was low on Freon the refrigerant used in the system causing low performance and the freeze up of the system.
Immediately we began noticing the temperature inside getting cooler and more comfortable. Al made a test of the temperature of the air and it was right on target. He also told me the system was now performing at a level that would save on energy costs as much as 40%. What a plus! The whole service call only took about 30 minutes. Why had I waited to get my air conditioner serviced when this was so easy to resolve. A day later and the system is working so good and the whole family including the dog are happy!
Needless to say, I'm very happy to have Al and Lee's Cooling and Heating service my system. Next year I plan to have it serviced in April so that it will be ready for the hot temperatures. I may decide to subscribe to their Preferred Customer Service Maintenance program to make sure this never happens again. I highly recommend contacting Lee's, if you have any issues with your air conditioning. Don't wait as I did to call them and suffer in the high temperatures of Southeast Kansas.
Lee's Cooling & Heating provides a full range of air conditioning and indoor air quality services throughout Southeast Kansas. If you need help getting your home ready for summer, contact us today to schedule an appointment.