HVAC Maintenance Program
Just like your car, your heating and cooling systems should be serviced by expert technicians on a regular basis in order to operate safely and efficiently. With regular maintenance most repairs are prevented. By taking the time to have professional maintenance done once or twice a year can prevent those unexpected failures when you need your heating and air conditioning systems the most.
It's easy in today's life to forget maintenance. That's why here at Lee's Cooling & Heating we offer an HVAC maintenance program for Southeast Kansas to insure you get service when you need it.
Preferred Customer Service Maintenance Program
Lee's Cooling & Heating is proud to offer our customers the Preferred Customer Service Maintenance Program to help you stay comfortable all year round.
This is how it works: By agreement Lee's will provide you with a complete ultimate tune up either annually or semi–annually for your heating and/or air conditioning equipment. The terms of the agreement may be customized for your needs, and we offer 1–year agreements. It's up to you!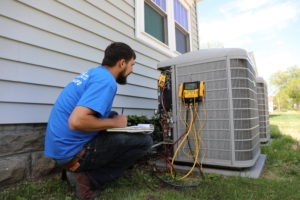 Benefits of Our Maintenance Program
Industry research shows that when air conditioning and heating systems receiving regular maintenance they operate better and last longer! Check out all of the benefits of scheduling annual or semi–annual customized maintenance plans.
Fewer Repairs
Equipment lasts longer
Improved performance
Lower energy costs
15% discount on repairs
Priority scheduling
24 hour emergency service
No overtime or weekend charges

Agreement is transferrable.
On the day of your priority maintenance appointment, our certified technician will do a thorough inspection of your system. Should repairs be required the technician will let you know so that you can get those scheduled. After the maintenance is performed, a written report will be provided on your system so that you have a complete record and so that you can make repairs or upgrades as necessary.
What will be done on your maintenance session:
Clean and adjust burner/ignition assembly, blower components, coils, and condensate drain
Test safety controls and electrical connections
Inspect and clean heat exchanger, monitor flue draft, and perform a carbon monoxide test
Measure for correct air flow and proper volts/amps on motors
Adjust operating pressure
Replace or clean air filters
Lubricate all moving parts
Calibrate thermostat
Apply protective coating to outside unit
HVAC Maintenance in Southeast Kansas
Your heating and air conditioning systems work hard for you year in and year out, and they deserve the very best. Sign up today for a maintenance program that puts you first! Your HVAC maintenance is in good hands with the experts at Lee's Cooling & Heating. Since 1950 we are a locally–owned company with certified technicians who go through frequent training to service all makes and models. Contact our team at Lee's for complete HVAC services