Residential & Commercial HVAC Services in Southeast, KS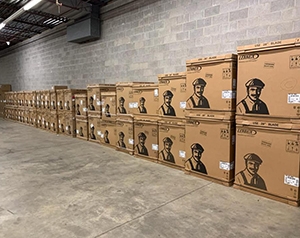 The homes & businesses in Southeast Kansas need durable heaters for the winter and hardworking air conditioners in the summer months.Our lives depend on these systems all year long. You need a quality HVAC company on your side. We install & service all types of heating and air conditioning whether it's a home or business.
If your heating and air conditioning fails to perform, we can be there ASAP! It doesn't matter the make or model as we service them all. We don't care who installed the equipment. Lee's Cooling & Heating is the top HVAC company in the area and we can find the best and most efficient equipment to help you save money for many years. Lee's is unique in the area by carrying a large inventory of major brand equipment in our Independence warehouse that enables us to save you money. Contact our team for residential & commercial HVAC services.
Our Air Conditioning Services
All that sunshine and warmth each summer is nice, but it's better to know that your air conditioner will do the job when you need it. Lee's offers the best brands and the best service - we guarantee it!
Central Air Conditioners – The installation of efficient central air conditioning is in our wheel house! After all, we've been in the business since 1950 and air conditioning in a high humidity area like Southeast Kansas is our expertise.
High Efficiency Systems - Because we know the demand for air conditioning in this area, we offer top quality highly efficient systems providing the reliability you expect. It is our job to keep you comfortable during the hot summers.
Heat Pumps – We believe in heat pumps and we always suggest a heat pump system because in the long run it will save you money on your energy costs. A heat pump looks a lot like a standard central air conditioner, but it has the ability to heat your home too! We service all makes and models.
Service - We talk a lot about service, but we more than just talk. Customer service is in our minds continuously. It's a regular part of the culture here at Lee's Cooling & Heating. We look forward to showing you what we are all about.
About Air Conditioning Efficiency Ratings
Efficiency rating are important to know about. The better the rating the more money you will save in energy costs. This is true for both heating and air conditioning. For air conditioning the rating is SEER (Seasonal Energy Efficiency Ratio). The higher the SEER the more the savings on energy costs. Many times the savings is worth a nominal additional cost that is offset by lower out of pocket costs on your monthly energy bill. In fact, the savings can pay for your new system. Ask the engineers at Lee's to explain your estimated savings.
People always say about Kansas to just wait and the weather will change. This is why good heating in Southeast Kansas is essential. Call the team that knows this well and will help you find the efficient system for your home or business. We offer just about every kind of system available and we know the system that will work best for you.
Furnaces – A standard gas furnace is the most common in this area. Our trained & certified technicians will make sure your furnace is safe & efficient, ands running smoothly. We offer installation, repair and maintenance service of all brands. On new furnaces we offer the new high efficiency variable speed blowers, that are quieter and save you money.
Heat Pumps – A heat pump is highly efficient as it moves heat rather than generating it. We recommend heap pumps because their high efficiency will save you money over a period of time. Because of their higher efficiency, they help the environment by saving on energy costs.
Dual Fuel Systems – Heat pumps can suffer from inefficiency in the winter, but pairing an electric heat pump with a gas furnace in Southeast Kansas ensuresyou'll feel comfortable with minimum energy and fuel use year–round.
About Furnace Efficiency Ratings
Furnaces also are rated for efficiency. The rating is called AFUE (Annual Fuel Utilization Efficiency) and is identified by a percentage. The higher the percentage, the higher the efficiency of the furnace and the greater the savings in energy.
Improve Your Indoor Air Quality
Your comfort is not all about temperature. Today's air quality systems keep you comfortable by eliminating contaminants, providing fresh air and adjusting humidity. We install the best quality systems available. Whatever you need to keep your home or business comfortable, you can count on Lee's. We've been serving local homes & businesses for 68 years. Contact our friendly team today for heating, cooling, and indoor air quality services in Southeast Kansas.
Air Filtration Systems and Air Purifiers – Eliminate allergens, dust mites, viruses, and bacteria from the air with an advanced air filtration system or UV air purifier.
Heat and Energy Recovery Ventilators – Let fresh air in without any major impact on your heating and cooling system efficiency.
Humidifiers and Dehumidifiers – Dry air in the winter leads to chapped lips and increased instances of illness, while humid air in summer means you feel warmer, mold and mildew can collect in the home. We install humidifiers and dehumidifiers to take care of these problems.
Our Commercial Heating and Cooling Maintenance Services
We also offer complete commercial HVAC system maintenance services. It's important to keep up with proper maintenance so that you know your systems are operating safely and efficiently. Commercial units should receive services on a quarterly basis, or at least semiannually. We make that easy with our preventative maintenance plan for commercial properties. Call us today for more information about this important service.
Why Choose Lee's Cooling & Heating?
Lee's Cooling & Heating has a history in the Southeast Kansas area. We are locally owned, and the owners stay involved in the day–to–day operations of the company—and would be happy to answer your questions. Our technicians are easy to work with trained and–certified, so your systems are in good hands.
 Our Brands
At Lee's we are not locked into one brand. We offer multiple brands of products and recommend the brand of equipment that best fit your needs. Only the best brands meet our specifications that benefit you, our customer.
About Rebates
At Lee's we like rebates because it saves you money on the purchase of your new system. Rebates can be as high as $2,600 depending on the make, model and efficiency rating of a new system. We will know about the current rebates being offered and will recommend the best deal for the system that meets your needs. We do this every day to save our customers money!